wedding-attire-for-men-explained
Wedding
Wedding Attire
for Men Explained
Wedding Attire
for Men Explained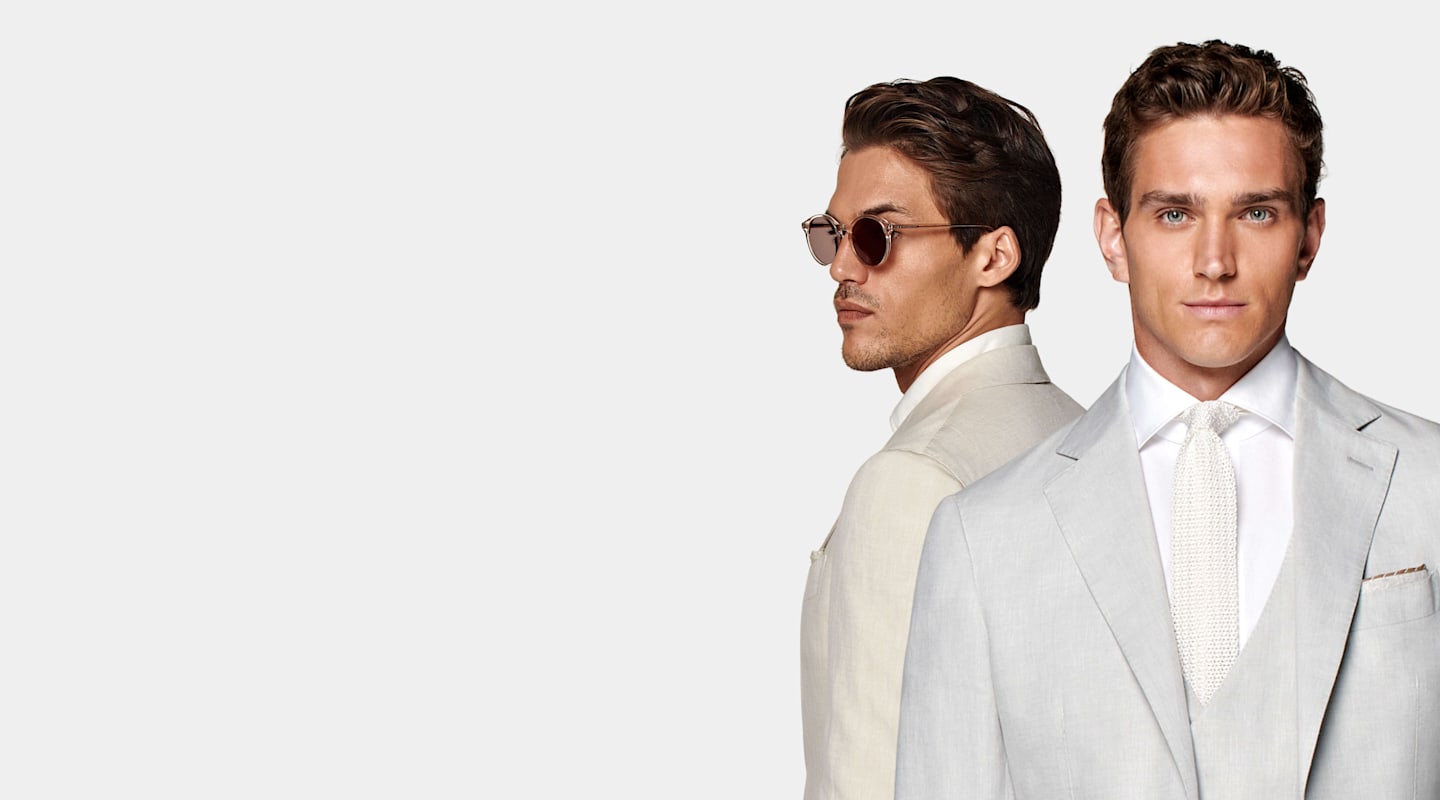 From black-tie weddings to weddings on the beach, formal, cocktail, and every dress code in between, we're here to break down the details of every wedding dress code for men.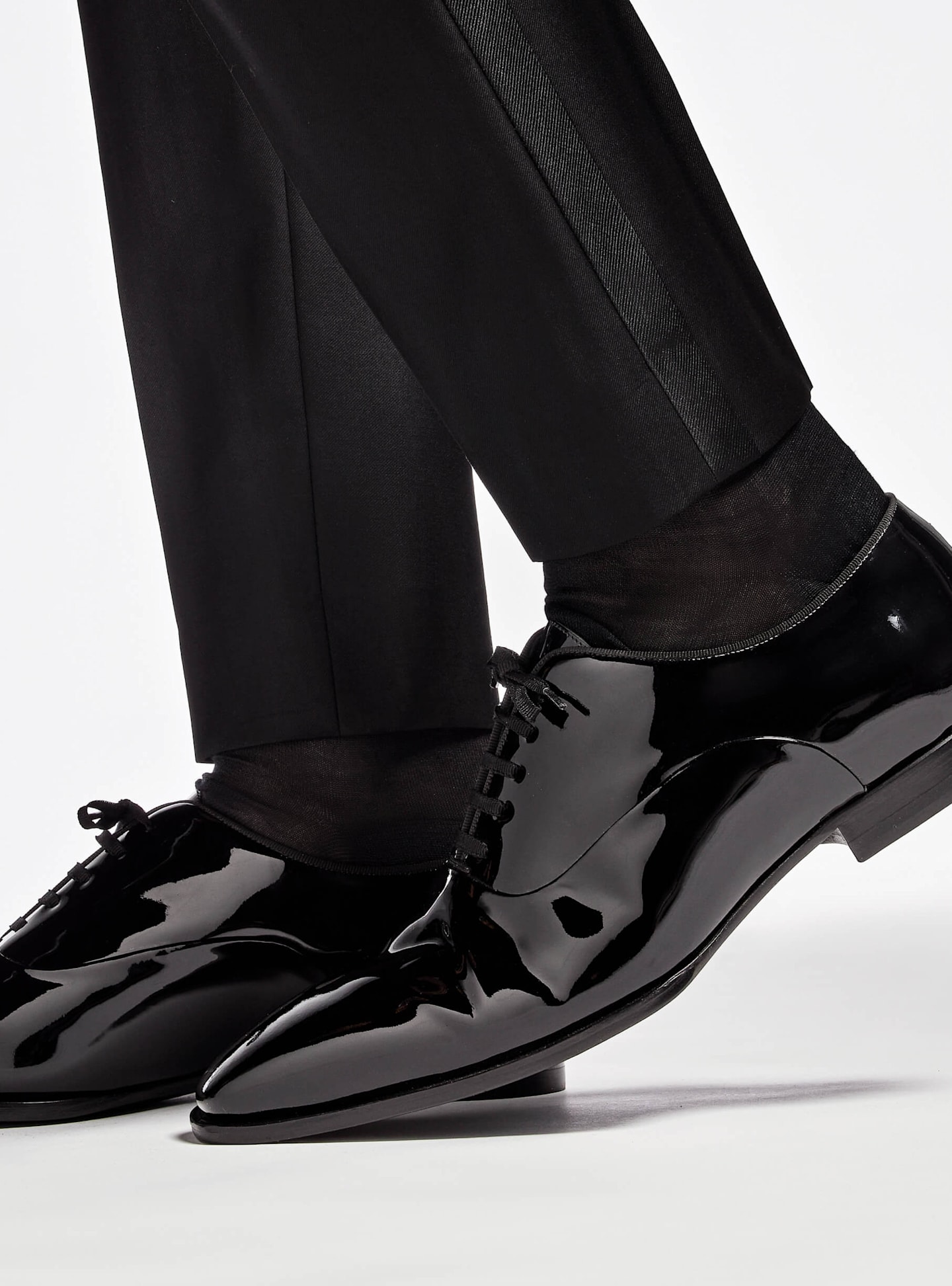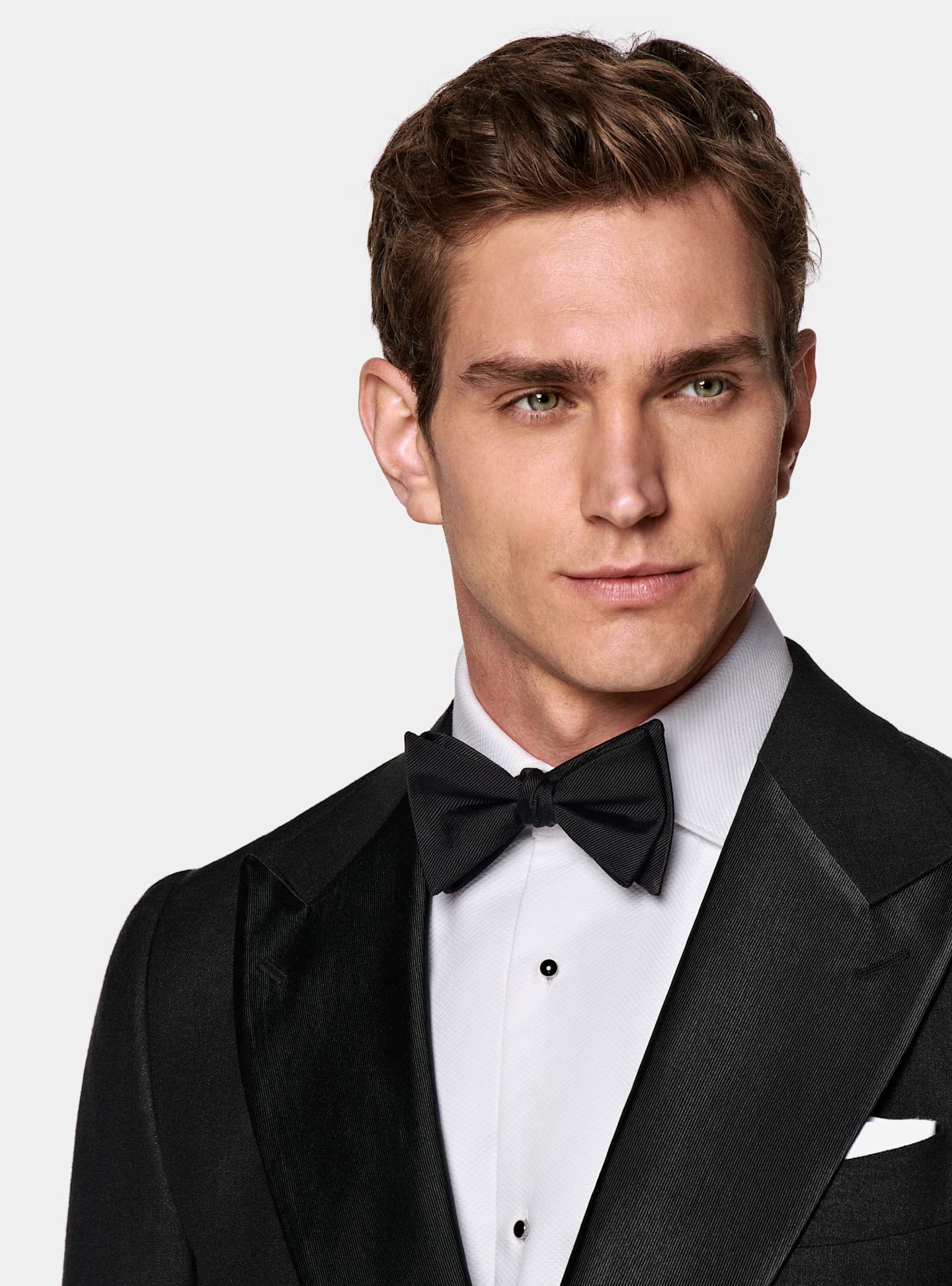 All About Creative Black-Tie
A traditional black-tie wedding dress code doesn't have to be stuffy or lacking flair. With creative black-tie, you can go a little bolder by trading in the conventional white shirt for a silk turtleneck, your lace-ups for velvet slippers, or pairing black trousers with a single-breasted, double-breasted, or velvet dinner jacket in a contrasting shade.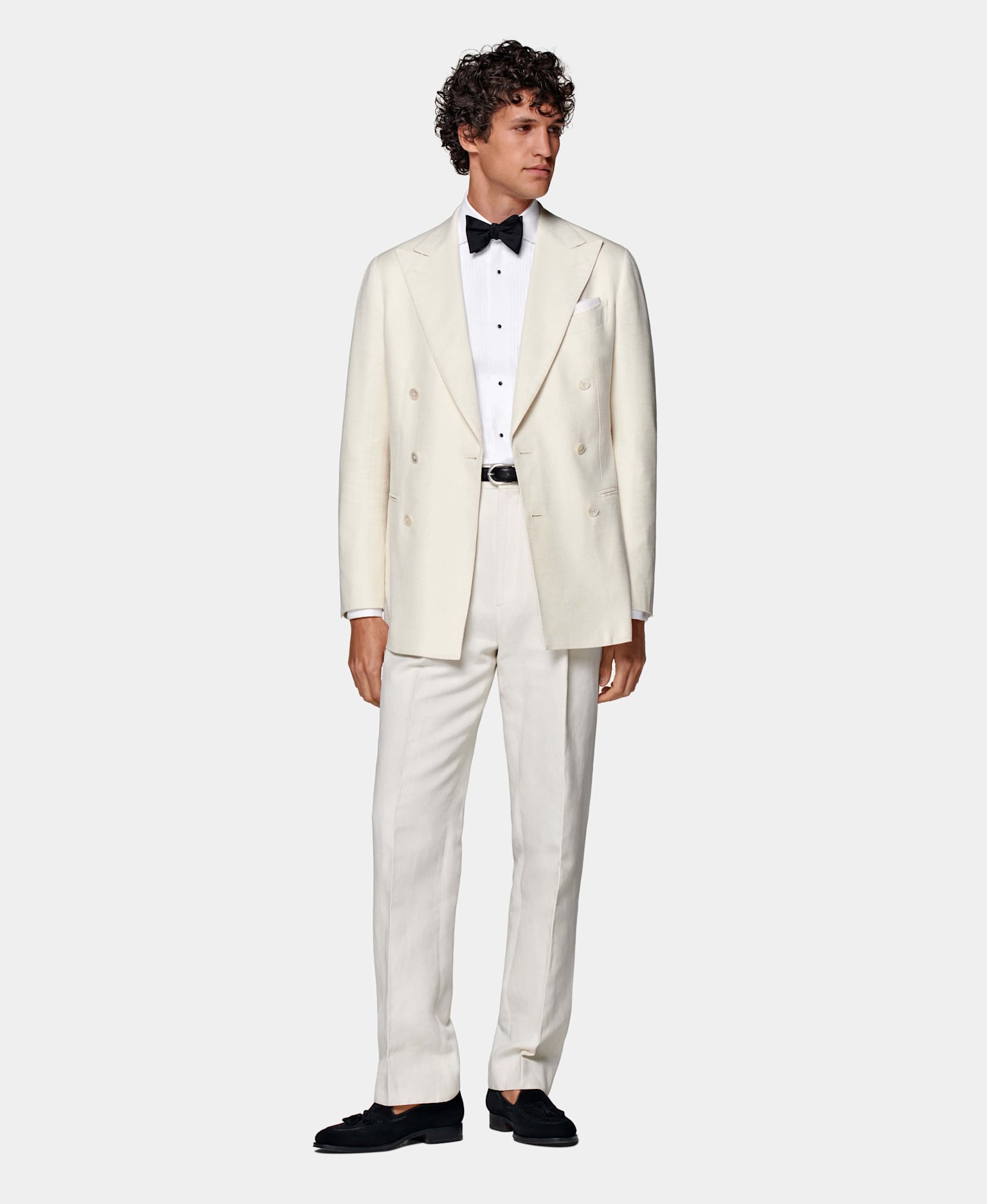 In a sea of traditional black tuxedos, a white or off-white ensemble—like our double-breasted Havana jacket & wide-leg Roma trousers—is bound to get noticed. Tailored to a relaxed fit, this piece is perfectly complemented by sock-less loafers and, in this very rare case, a leather belt.
Watch now & discover More Ways to Wear a tux or off-white dinner jacket for your next destination wedding.
Other ways to keep it creative is by mixing up a look with black trousers and a colored dinner jacket. In the right setting, you can complete a classic tuxedo with black Italian calf leather sneakers to add some casual detail to your elevated look.
Formal Wedding Attire
The formal dress code keeps an elevated aesthetic but isn't as strict as black-tie. A classic grey or navy suit, crisp button-up shirt, lace-ups, and tie are the foundation of a formal dress code. Most evening weddings suggest formal wedding attire, so be sure that a few evergreens, like our year-round Perennial Suits, are a fixture of your wardrobe.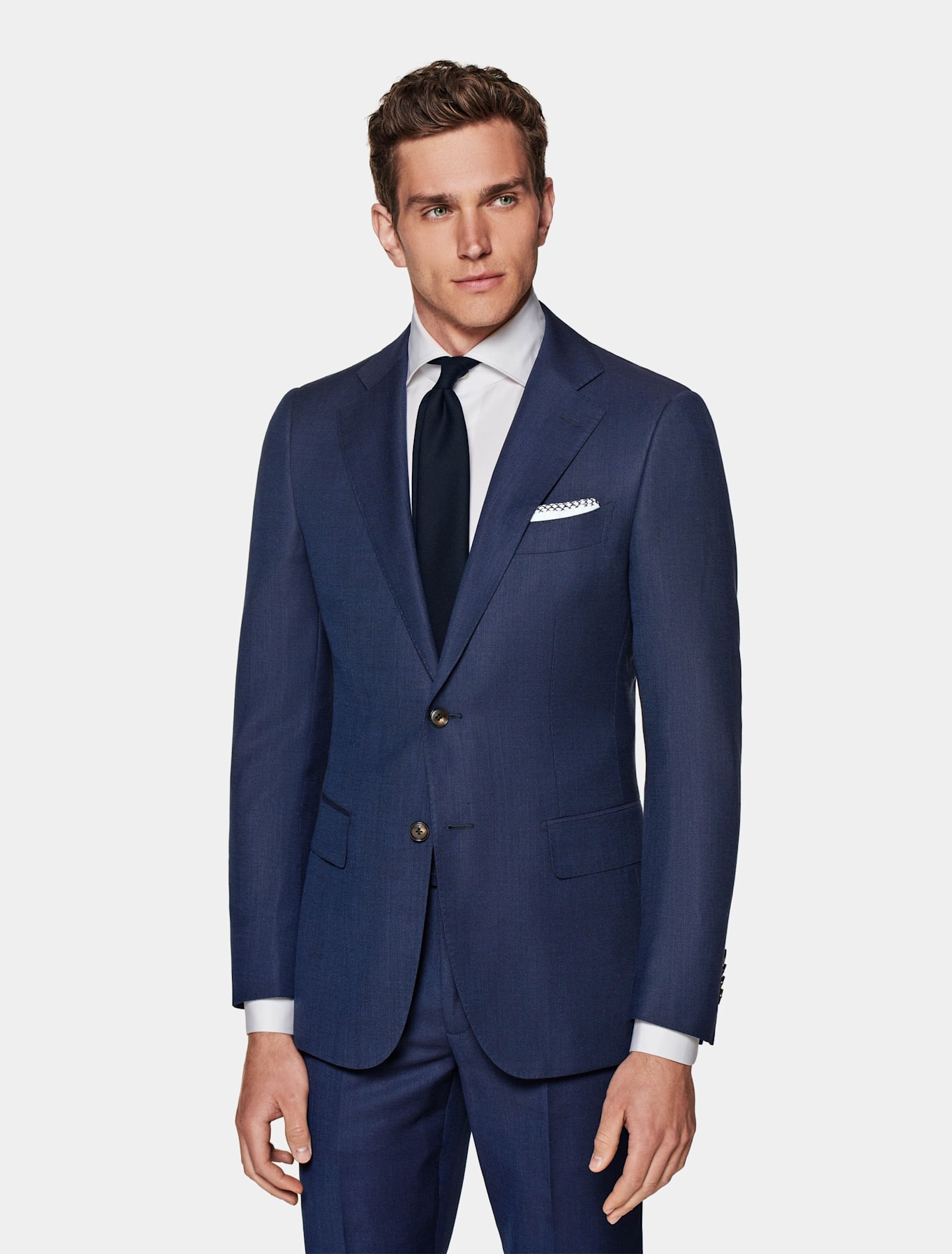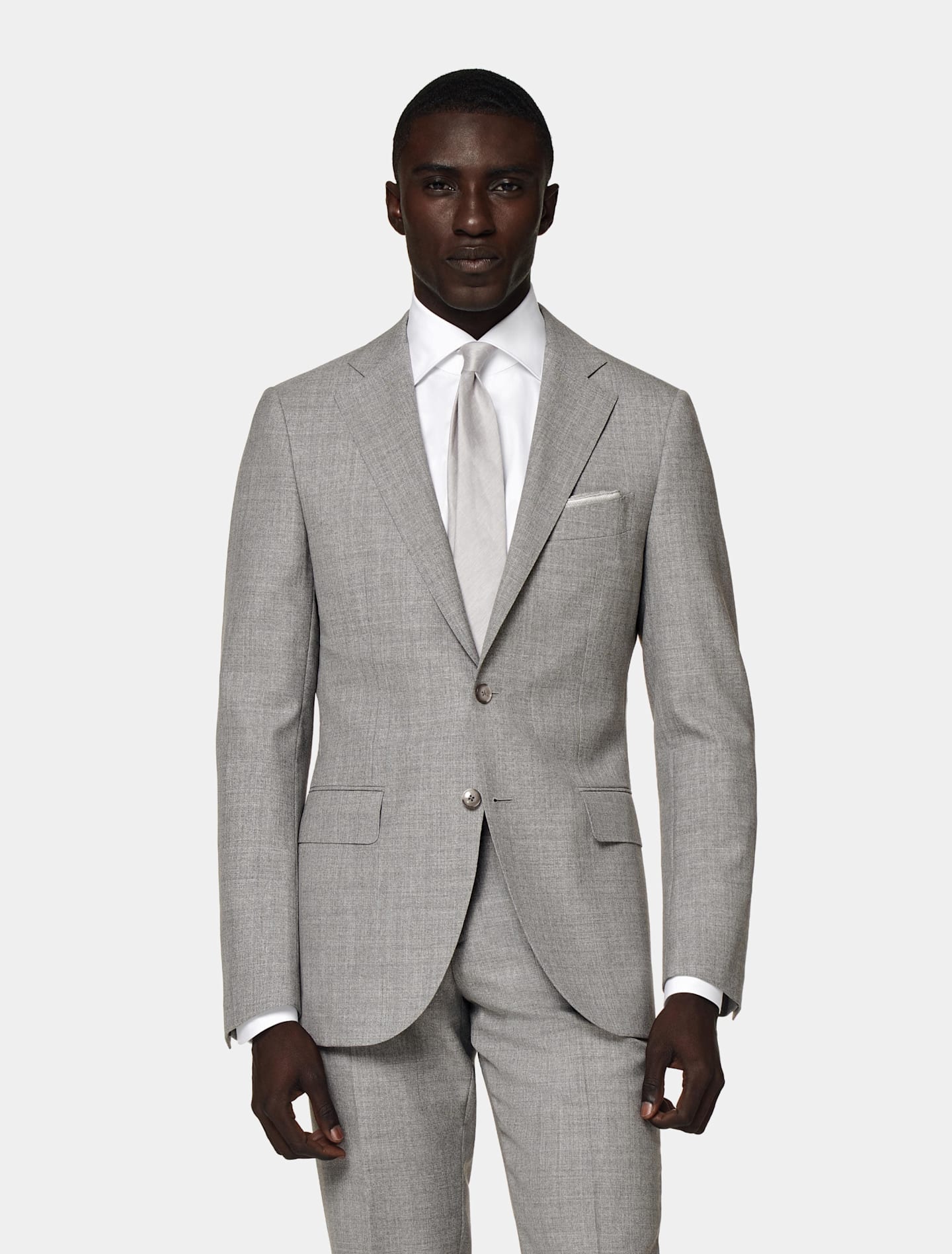 A classic navy or grey suit paired with a crisp white dress shirt is always a safe choice for formal wedding attire, and, of course, a staple that belongs in every closet. These classic colors will ensure you're dressed appropriately for formal wedding events, including rehearsal dinners and receptions.
Watch now & discover More Ways to Wear 2- & 3-piece suits for your next formal wedding.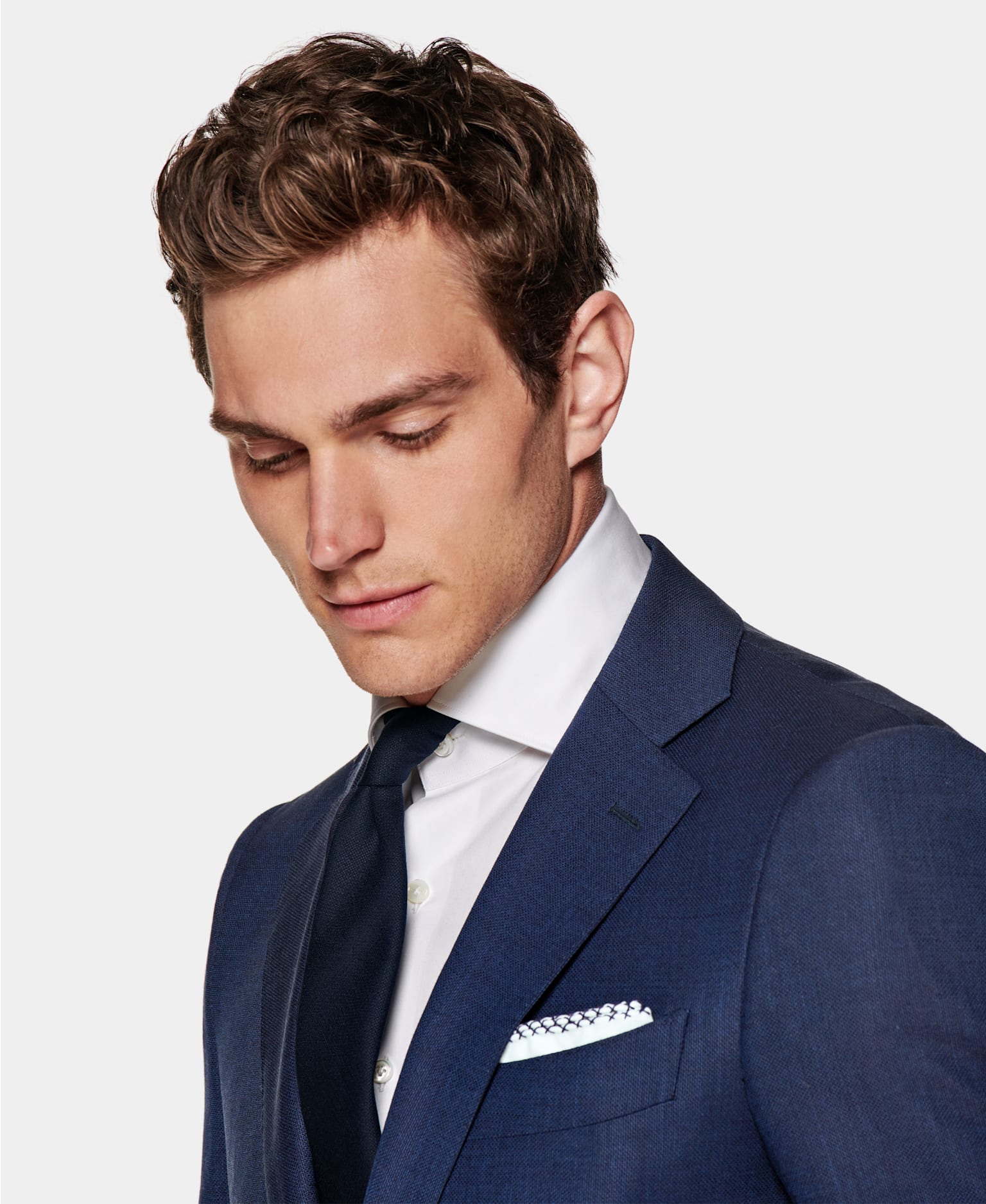 Black-Tie Optional Weddings
As the name suggests, adhering to black-tie attire is entirely your choice. While you're more than welcome to sport your tuxedo, it's likely that the more common choice will be to opt for formal wedding attire instead.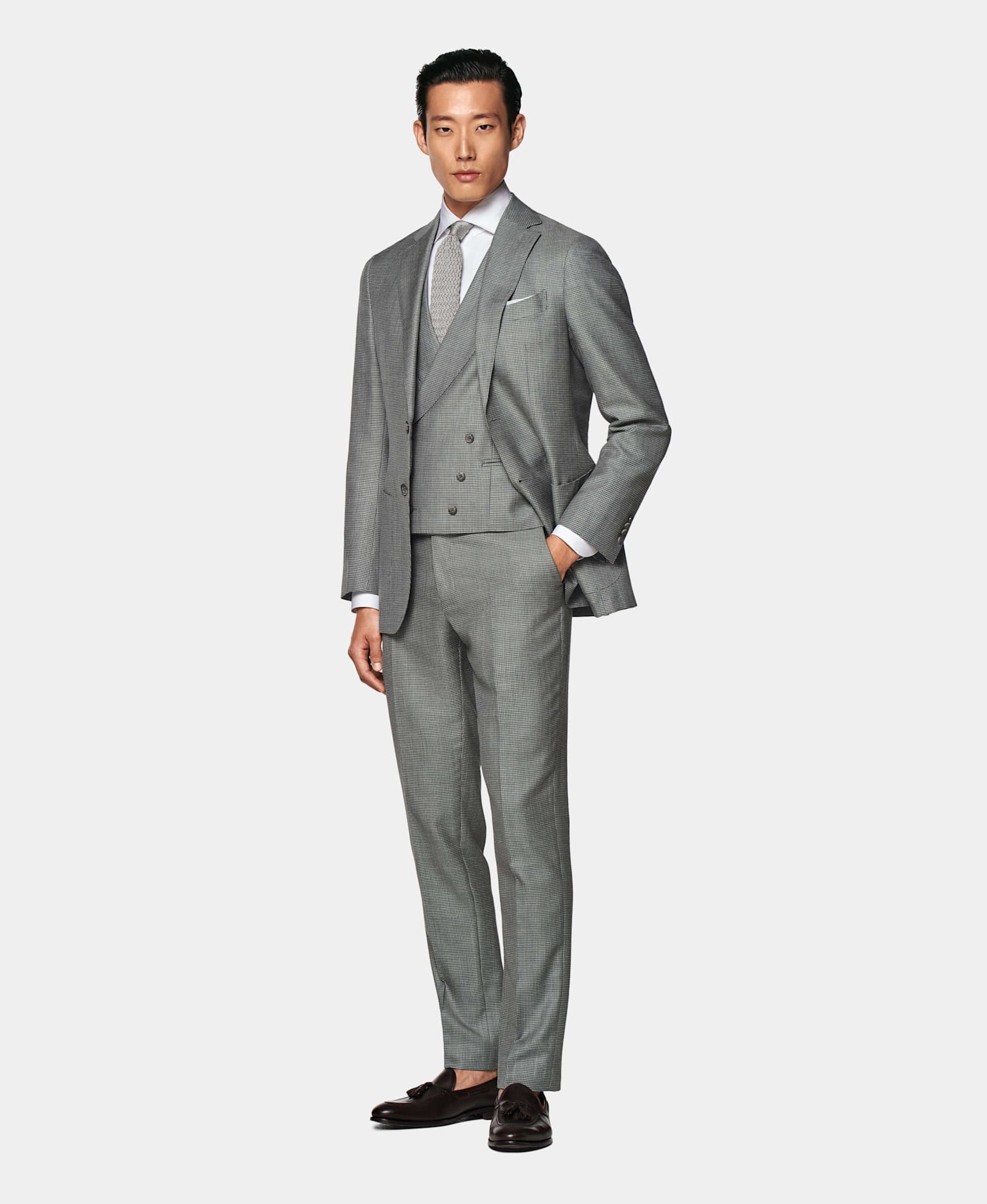 Luckily, formal wedding attire doesn't have to mean only to navy and grey. Bring in some volume, pattern & texture with a 3-piece suit in a houndstooth check, and bring it together with a knitted tie for a little something different.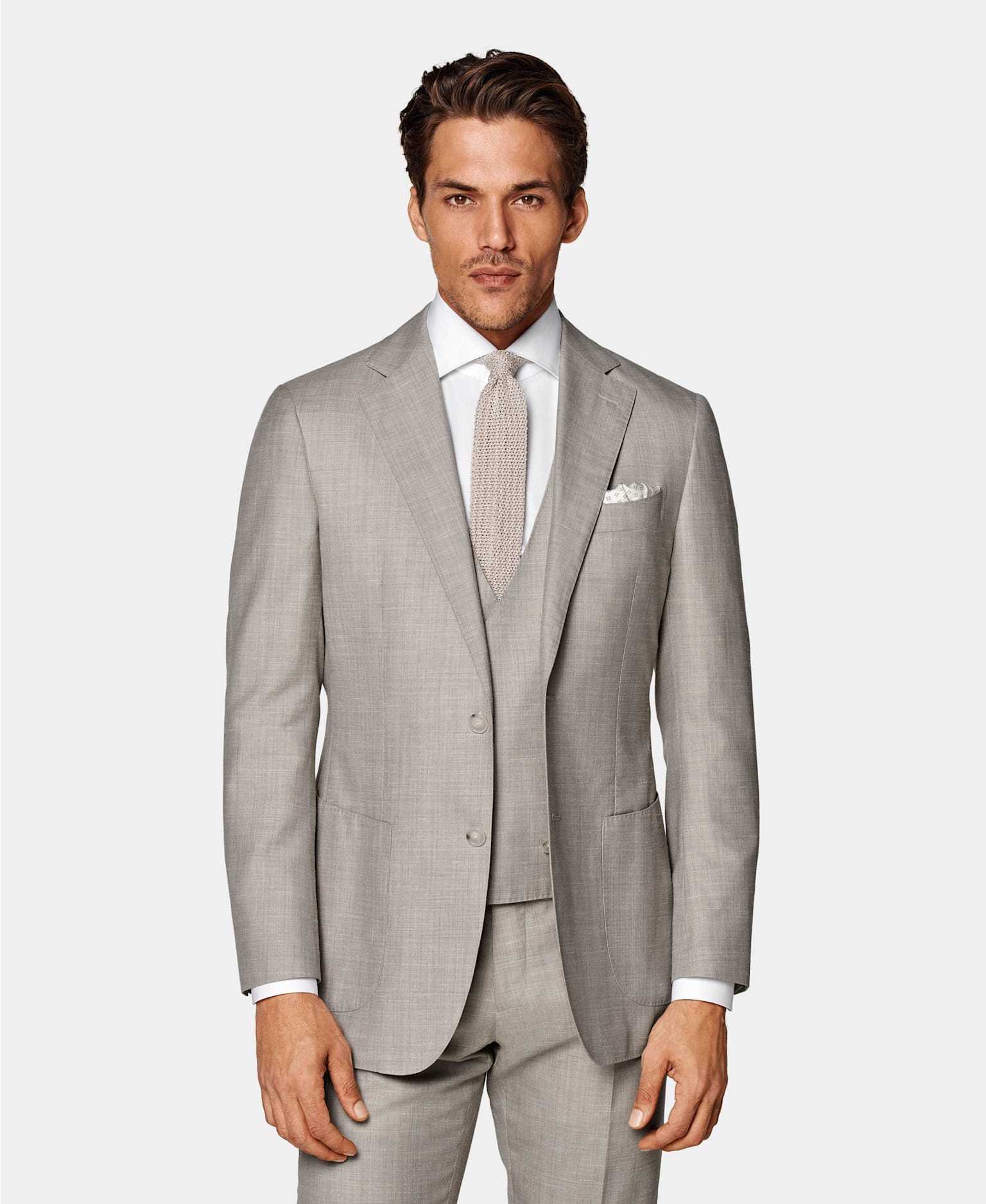 A light brown suit, by contrast, paired with a knitted tie and layered with an optional waistcoat is an easy way to level up your look. Complete your formal look with black or brown loafers or lace-up dress shoes, and choose a complementary pocket square to top it all off.
Cocktail Wedding Attire
Cocktail attire is one of the most popular dress codes for a wedding, and for good reason. A single or double-breasted suit, with a plain or patterned shirt, and loafers keeps it fun and festive. cocktail wedding attire offers the space and freedom to infuse more personality and creativity into a wedding look.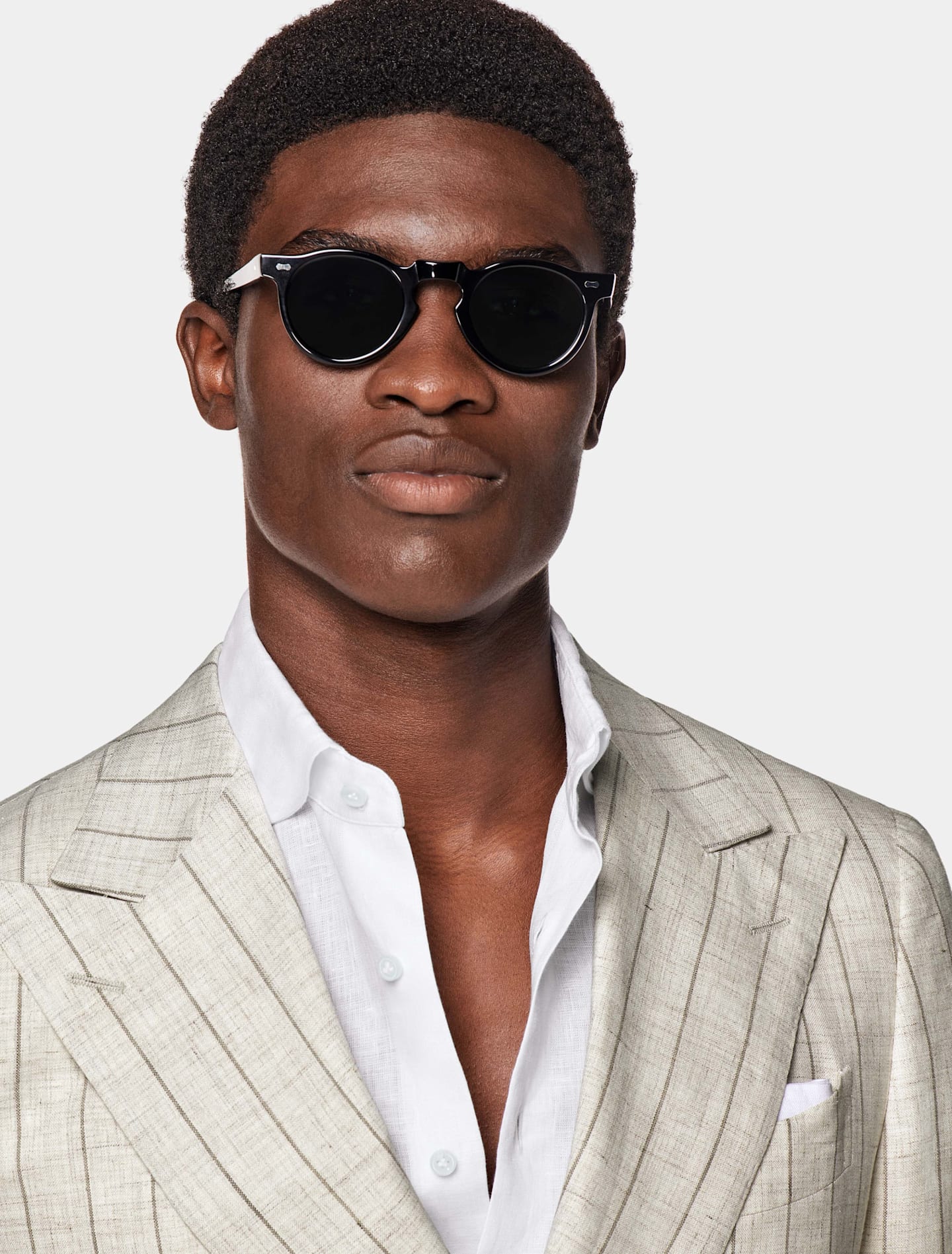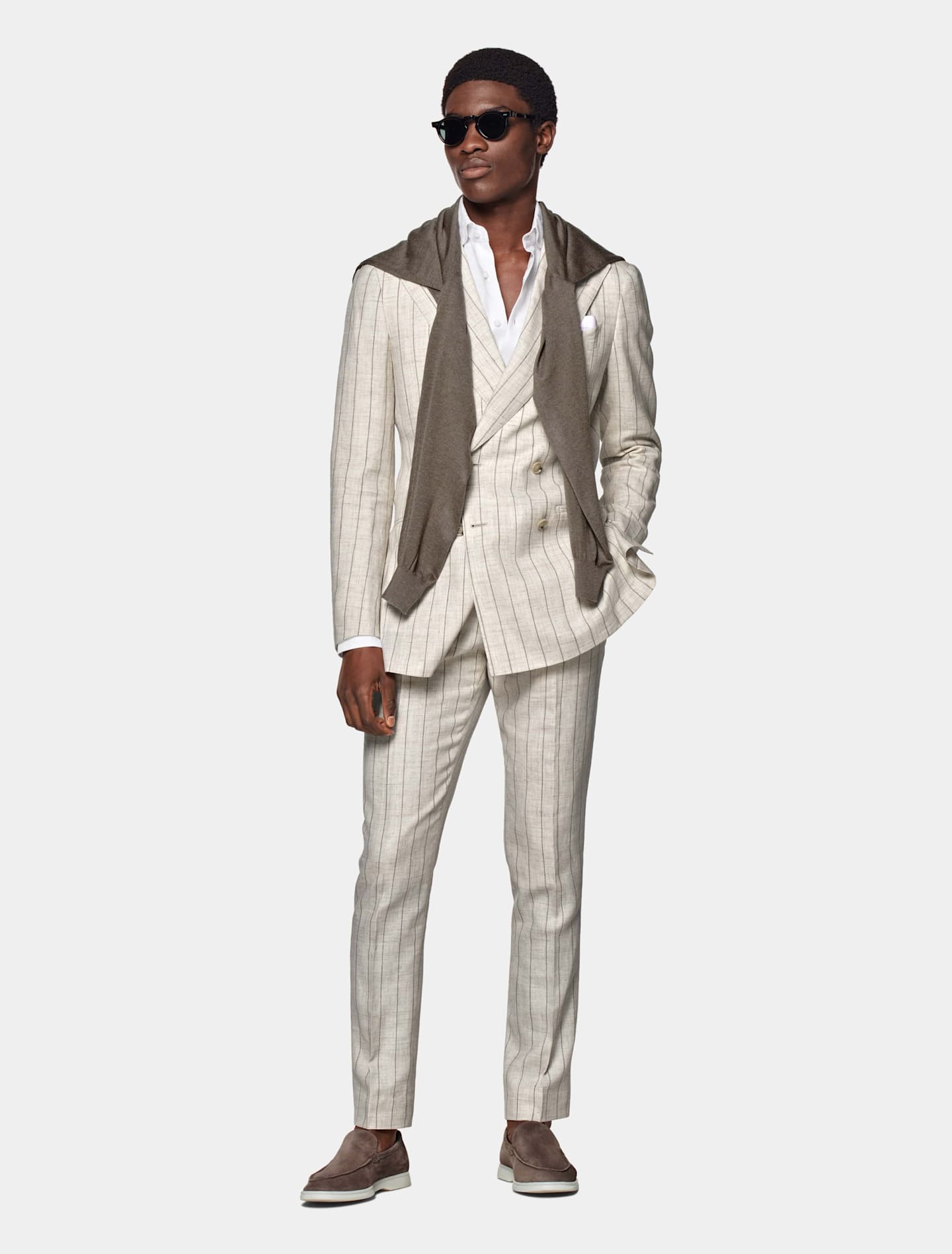 A cocktail dress code is all about flair and the party. And, because it's more laid back than other dress codes, that means you can loosen up your look… and you can start by losing the tie.
For a cocktail wedding dress code, a wedding suit without a tie gives an air of effortless sophistication. A tie-less double-breasted pairing like our striped wool linen blend suit adds just the right touch of pattern and carefree appeal. Feel free to lean into a wider range of colors—green and camel, or even pastel suits are all good, refreshing choices for cocktail wedding attire.
Watch now & discover More Ways to Wear your attire for your next cocktail dress code wedding.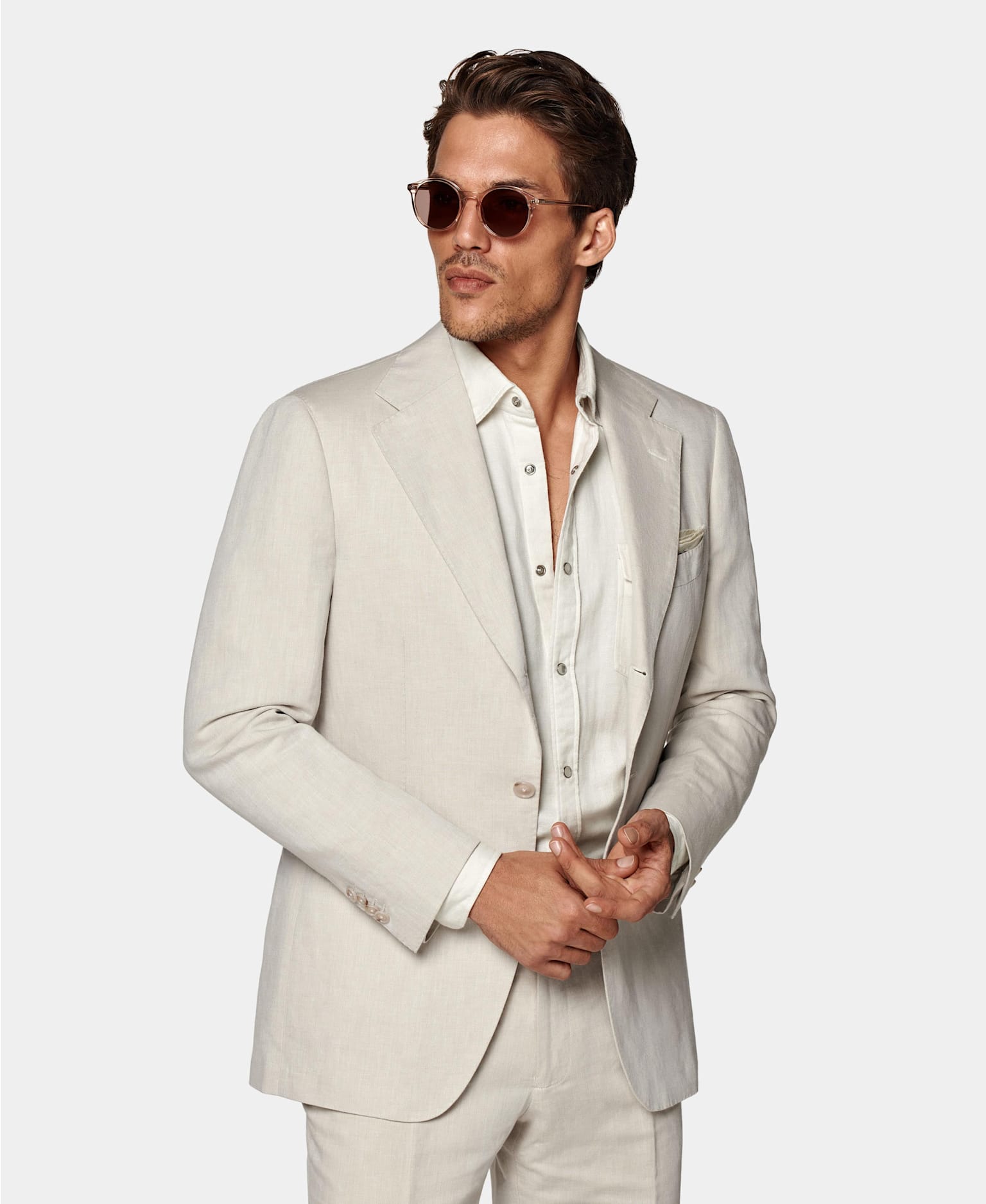 Just because cocktail wedding attire for men allows for more adventurous color choices, it doesn't mean you can't opt for classic shades of blue, navy, or gray. As for your shoes, pack something a bit more functional for the dance floor. Cocktail wedding attire allows for more comfortable and daring choices, like a casual leather loafer or a monogrammed suede slipper.
Smart Casual Wedding Attire
Though certainly elevated, a smart casual wedding dress code leaves room for interpretation. Think plain or patterned single-breasted jackets, dress trousers or chinos, knit or button-up, and casual shoes. Our smart casual wedding ethos is simple: relaxed refinement. Because smart casual wedding attire is less standardized, you'll have more freedom to express yourself with your sartorial choices.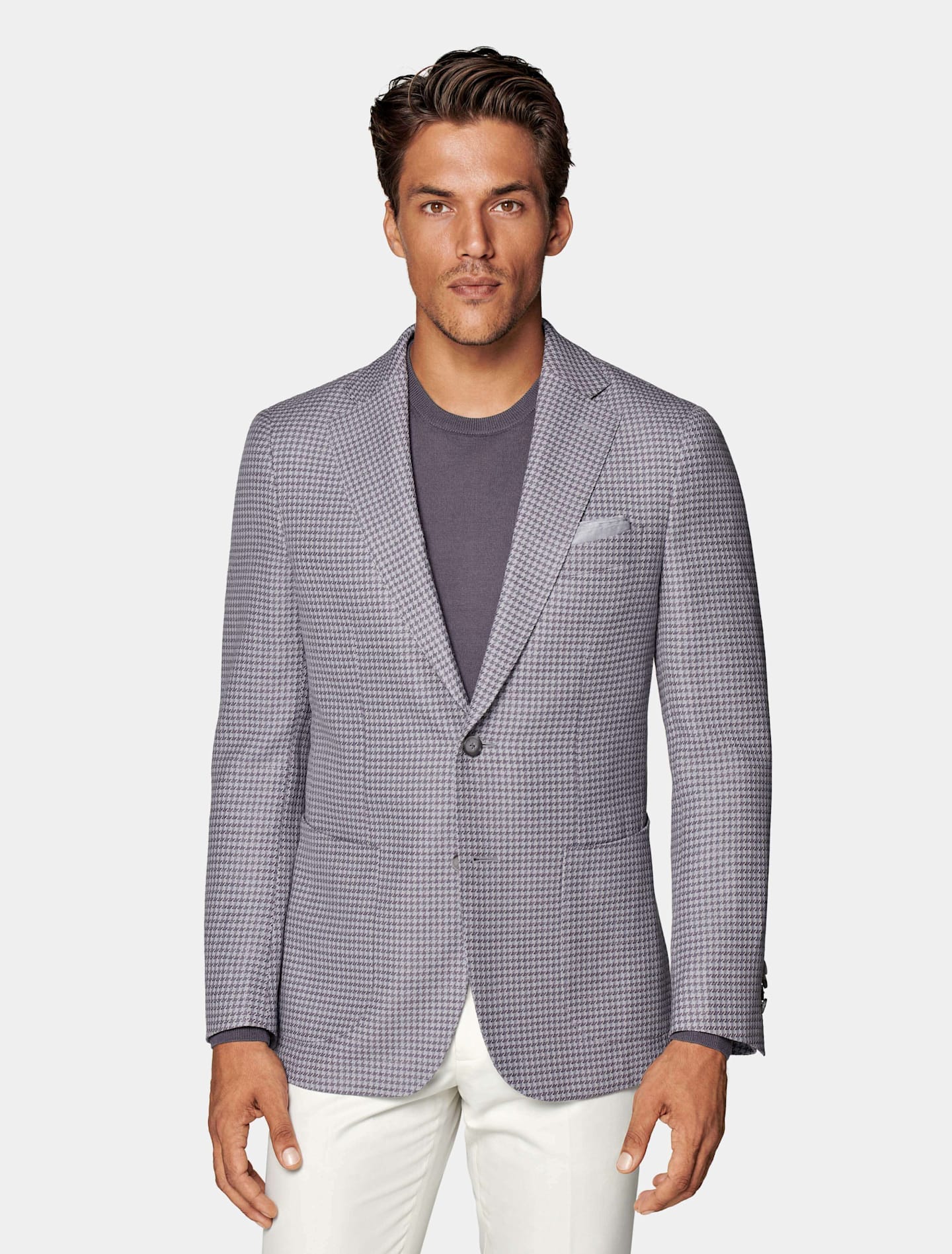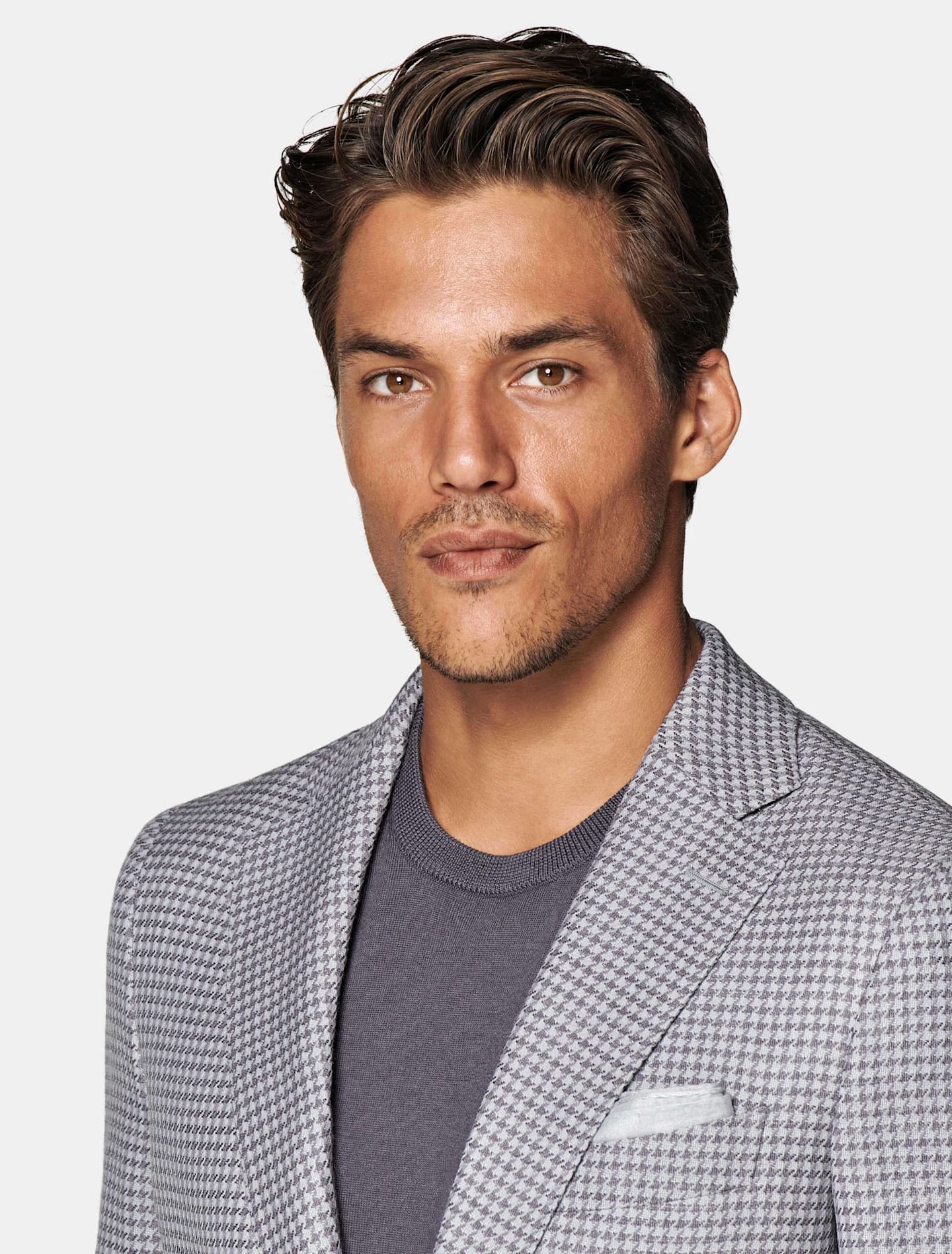 A smart casual wedding dress code also means more freedom of color. For instance, a spring or summer wedding could call for lighter floral colors—light blues, pale purples, off-white and light greys, while fall and winter weddings can be richer and darker. If the location is casual, like a backyard or casual restaurant, you could even substitute your button-up dress shirt for knitwear like a crewneck, a popover, or even a henley.
Watch now part 1 & part 2 to discover More Ways to Wear an elevated casual style.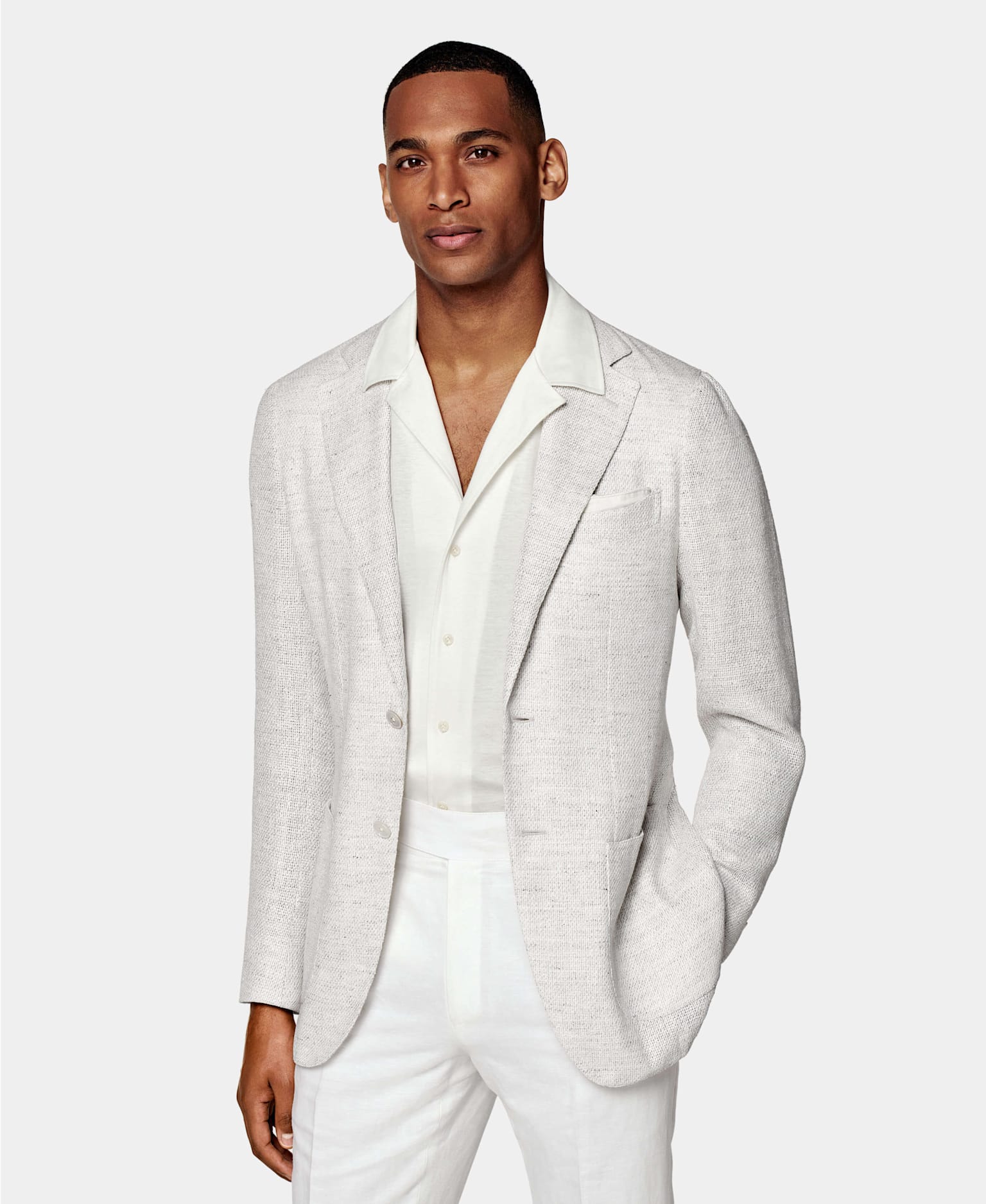 Forget the dress shoes and loafers. Crisp, clean leather or suede sneakers are a completely appropriate option for a smart casual wedding, even paired with a fun sock.
Beach Wedding Attire for Men
Breezy beach weddings remain an increasingly popular choice. The sand, the sun, and the soothing sound of the ocean waves make the beach a natural choice for a beautiful destination wedding backdrop.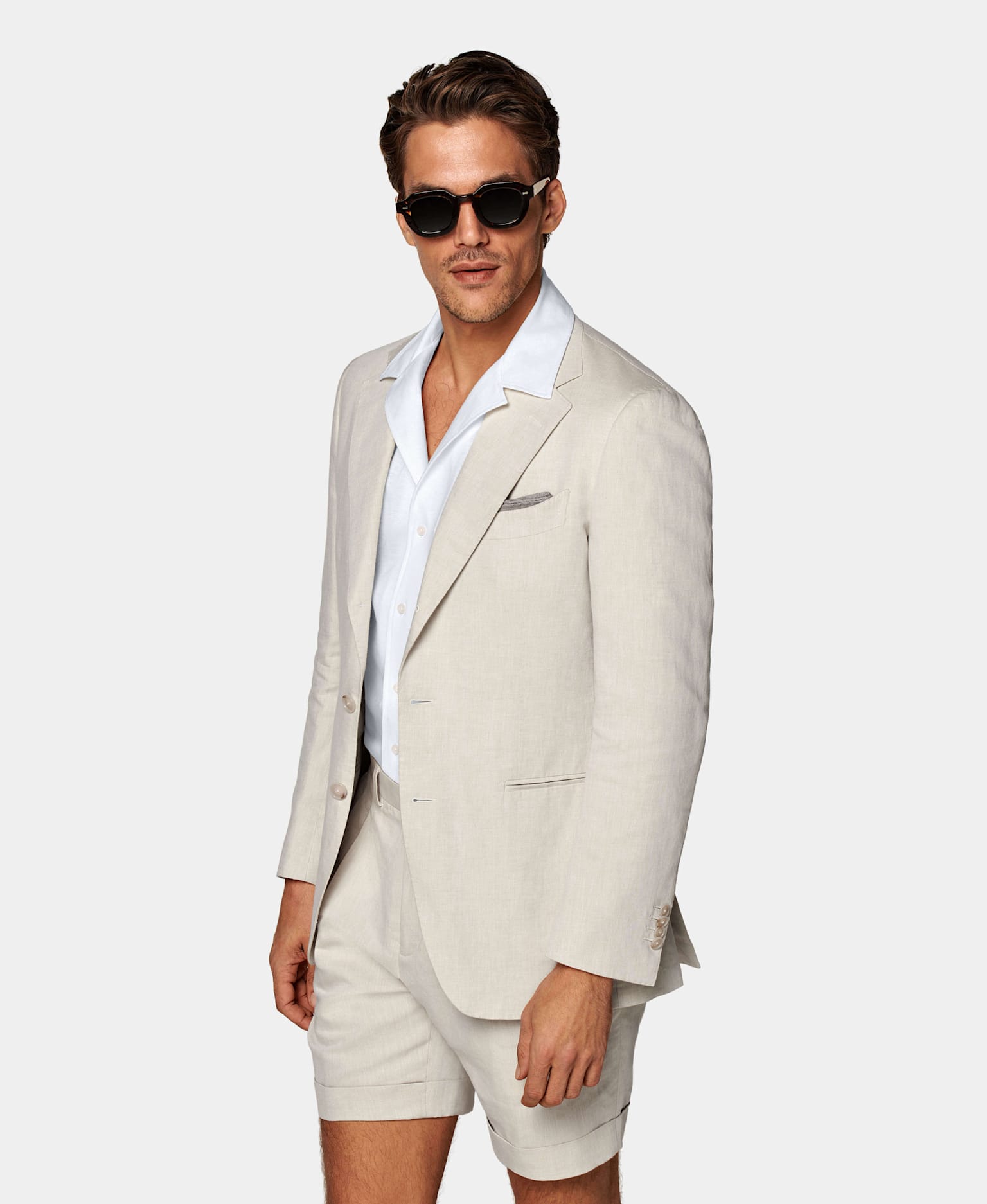 The beach is no place for a dark suit and tie, and certainly not a place for dress shoes. So go with a casual suit or separates with trousers or shorts, a knitted t-shirt or casual button-up, sneakers or canvas slippers.
Watch now part 1 & part 2 to discover More Ways to Wear an off-white suit for your next beach wedding.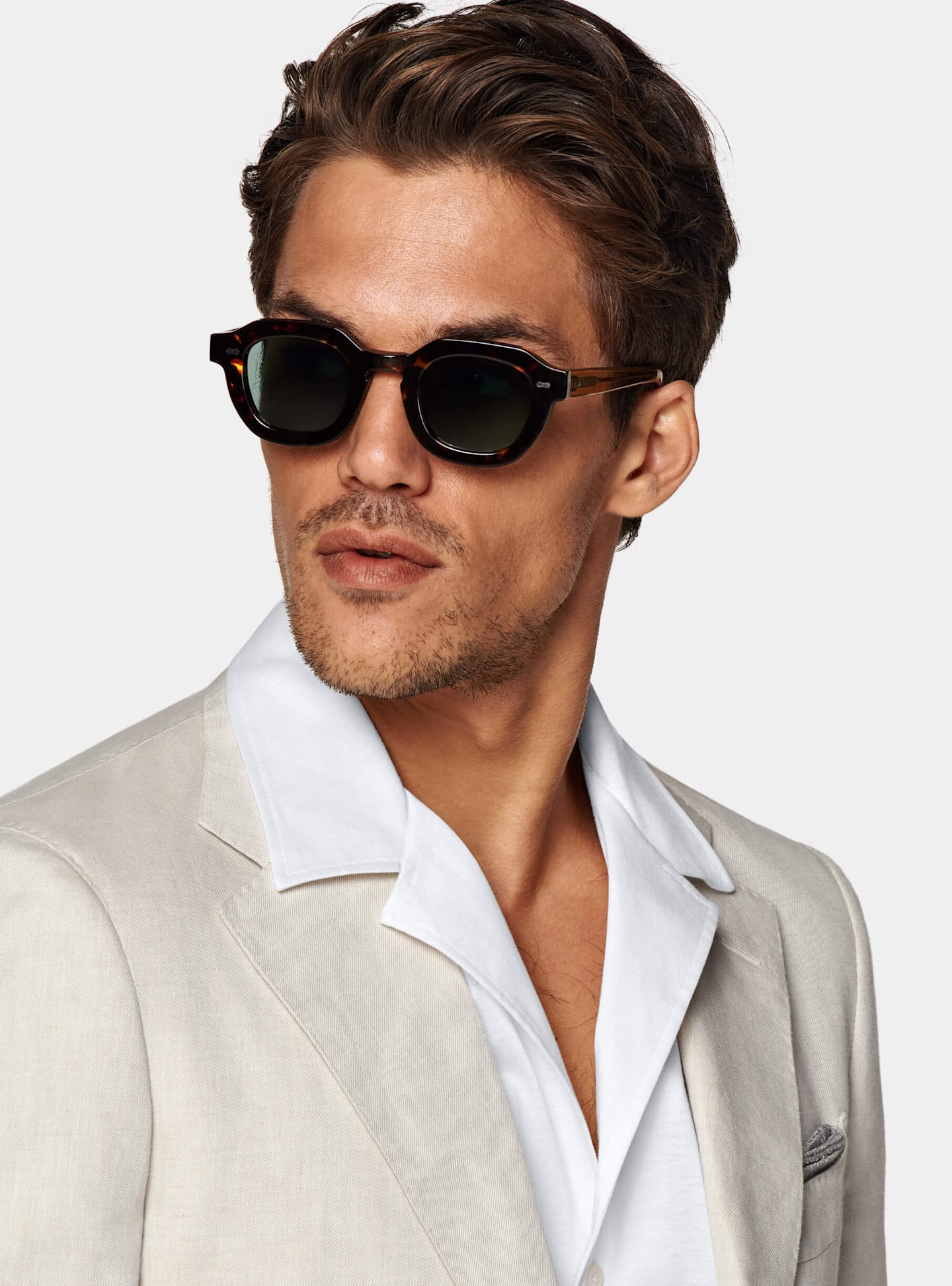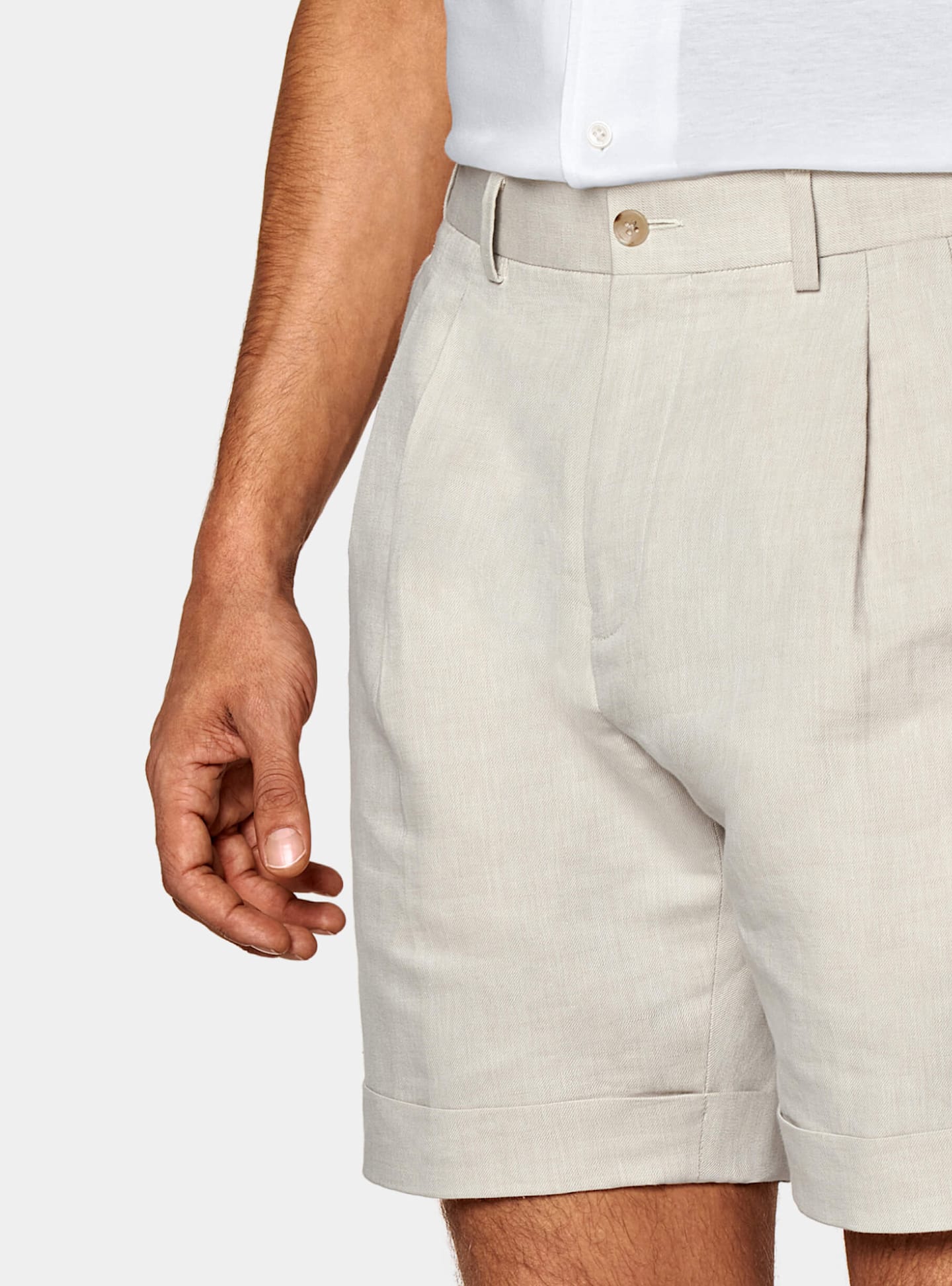 Look for a suit that will be functional and comfortable in the sun and sand. Lightweight fabrics like pure linen or cotton blends, and brighter shades like light brown, beige, camel, and light blues will fit right into the theme and the atmosphere of a beach wedding.
Shop all wedding suits online, and filter based on the required wedding dress code — Black Tie, Formal, Cocktail, Smart Casual, or Tropical. Don't see the perfect suit? Book an appointment to buy a custom suit, but plan ahead. Custom suits delivery 2-3 weeks after fitting. To be safe, plan to have your suit delivered 2-3 weeks before the wedding festivities begin.